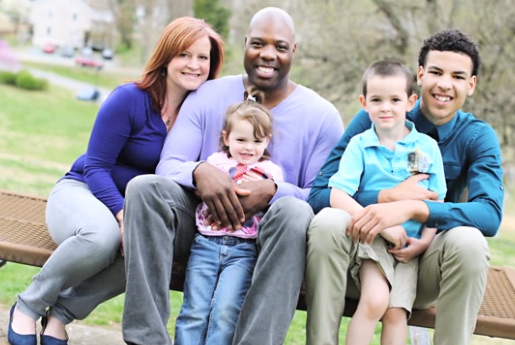 Megan and Rock Watson both served in the Army and met when they were assigned to the same company. (Megan served for 3 years and Rock for 10 years.)
Both completed basic training at Fort Jackson, in South Carolina, and further training at Fort Gordon, in Georgia.
Megan went on to serve during Operation Desert Shield and Desert Storm and Rock later served a tour in Korea. Both were 31D mobile subscriber equipment transmissions systems operators. "Basically we provided cell tower service before there were cell phones for the public," they explained.
When asked to describe her experience in the service, Megan said, "Joining the Army was one of the best decisions I've ever made, but those three years were the most difficult of my life. I experienced and witnessed some very traumatic things. Coming home was difficult and some of my experiences continue to impact me today."
She went on to say, "Maybe those experiences are what help me understand what our children are going through. I wouldn't have been able to function without the support of Rock and my family. Rock's calm demeanor and love have helped immensely with my healing. I firmly believe that healing takes place with connection in healthy relationships."
Rock says that he joined the service "because I wanted to seek something bigger and better than the situation I was in. I had members of my family who served, and I wanted to do my part and to be part of the legacy. I wanted to be part of something that had purpose and required more of me. I was discharged as an E-5 Sergeant."
The Watsons use their understanding of trauma as they foster children and try to help them build personal relationships that are meaningful. They said, "Our parenting involves order, structure and repetition. We constantly practiced missions down to the smallest detail in the Army. While we understand that chaos is familiar with the children we serve, it is managed and limited by how we run the house. Our structure involves meeting supervision needs, knowing our children well enough to know what triggers them and minimizing those triggers as much as possible, remaining calm in the midst of chaos, and treating them as if they have always been part of our family."
Rock and Megan speak of having a heart to serve and the calling they felt to foster children who had been removed from their birth families; "Our desire to serve didn't stop once our military service ended. We believe that God blesses us with strengths and abilities to work with children and we carry out our faith to love others as Christ loves us through our mission to provide for every child who enters our home."
Megan went on to say, "Having experienced the loss and devastation of war and having to leave behind my own child has given me a different perspective on life. I had a choice, to retreat or to live, and living involves purpose and action. We impart these values onto our children in the way that we take advantage of teachable moments to give the children a tangible example of how to love others."
The Watsons will celebrate 25 years of marriage this year and they recently started a business together known as 'Sliced. cake bar'. This traveling operation is a cake bar based on the beverage bar model, providing for purchase, cake by the slice, butter cream shots and cake flights. It seems no matter what, that this family is always looking for a new challenge or experience to pour their heart into. People Places admires their passion, parenting, and their service to our country. Thank you, Megan and Rock, for all that you've done to help protect our freedom and the communities we serve!
To Learn More:
Contact us at the location nearest to you!