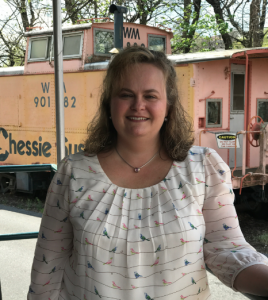 Written by: Kindall Stevenson, Marketing, Advertising & Recruitment Specialist
Colleen entered foster care at age 8 and was referred to People Places at age 11. Today, she is articulate, successful, and a loving mother to two boys of her own.
She recounts her time in the system; "I know DSS like the back of my hand. When you've been rejected by your parents, you know what love is and what it isn't." She describes everything from memory and comments on how bright lights would upset her because fight or flight mode was constantly in overdrive.
Shockingly, she said "I hated the word 'foster child' because all I heard was 'false child' – like I wasn't really even there. Kids sometimes push their foster parents because of all the hell they've experienced and it's not fair, but that's all we know."
Coming from a home full of neglect and abuse, Colleen was brave enough to disclose the abuse to her school principal. Having the strength to speak up began the process for her finding a permanent home.
Her current happiness began with her foster (later adoptive) mother, Peggy. "I remember meeting her. She was smiling like she'd won the lottery… she was my mom. There was something about her presence that just moved me," she shared.
Peggy had 3 biological children, 2 granddaughters, and 4 foster kids. "It was organized chaos, and it was perfect for me." Colleen lit up when talking about Peggy, or as she calls her- "mom." She recalled learning to pay bills, how to be responsible, and how to be a part of a loving family.
She talked about simple pleasures like being able to paint her own room and get all new furniture from Grand Home, the furniture store where she is now manager.
She met her husband at age 16 and they were married shortly after high school. On her 20th birthday, Colleen brought home her first child and experienced a new love that overwhelmed her. "I didn't know you could love anything like I loved him. I was terrified, but that love was strong, and I was determined to break the cycle."
As a new mom, she had to face her bitter feelings towards her biological mother for what she "allowed to happen." Now, her mother attends family night, at her home, every other week; "She has been so respectful. She's worked so hard and is a wonderful grandmother."
Still living with the pain of her father's actions and assaults, Colleen has found a way to establish a relationship with her mother and even forgave her father before he passed away. "Everything that he was… all his wickedness became my burden to bare. My guilt. My shame… A lot of healing has happened." She goes on to add, "Through faith, I was able to face my parents. I had a breakthrough for my own benefit and I'm not saying any of it was okay, but I released myself from the power my father had over me."
Today, Colleen has been married for 26 (almost 27 years) and has worked for the same company for two decades. Each day, she feels grateful. "It wasn't just my journey. It was People Places, and it was my mom. I had people saying 'you're worth it'. And now I want to give back. Life hurts; it really does."
As a manager at her store, when the opportunity arose to choose a charity effort, Colleen knew immediately that she wanted to contribute to the work of the foster care agency that helped her. She donated all new furniture to the People Places office in Staunton and was so happy to step foot back in the place that connected her with Peggy- and with her future.
"People Places put me in a loving, safe, and stable home. I'm so thankful for People Places. I heard everything they said and I knew, no matter what, that I had the knowledge to make my own decisions."
"I'm just so honored. What if I had not been rescued?"