Staff Listing
When someone joins the People Places family, they tend to stay with us. Nearly half of our staff members have been with us for a decade or more. In the list below, you'll see staff members from every office alongside the number of years they've been part of our team—testaments to the strength of our community and our commitment to families.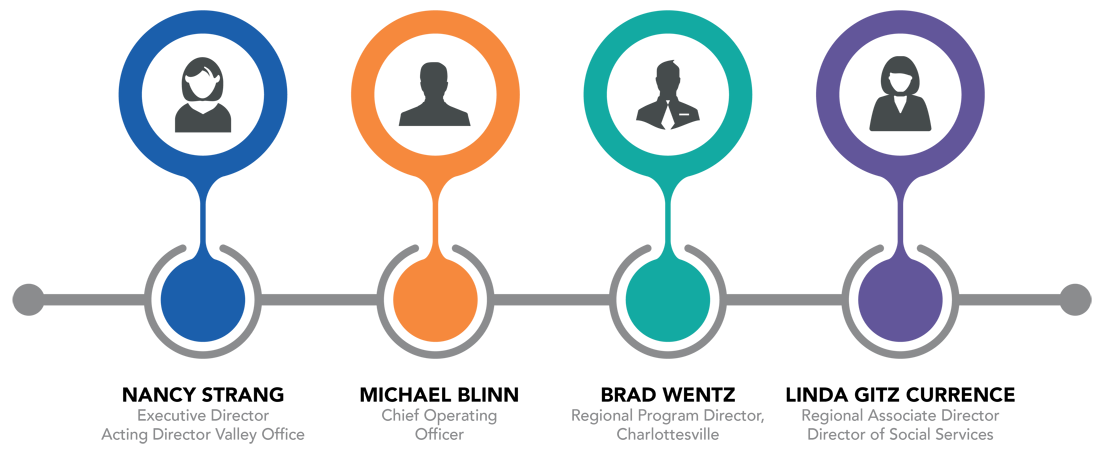 Nancy Strang
Nancy joined People Places in 2010 and was instrumental in the development of a community-based services program for the entire agency.  She has served as Executive Director since April of 2016 and is the acting Director of the Valley office sites.  Nancy has an extensive background in the child-welfare field, having previous involvement with residential, clinical, treatment foster care, adoption, and community based service programs.
She received her master's degree in social work from Virginia Commonwealth University in 1998 and has been a licensed clinical social worker since 2000. Nancy has over 25 years of experience working with children and families, including 20 years of senior management experience with nonprofit organizations.
Linda Gitz Currence
In 1995, Linda came to People Places after a 19-year career as a social worker at the Charlottesville Department of Social Services, with a concentration in family, child protection, and foster care services.
During her time at People Places, Linda was a line worker, Supervisor, and Adoption Coordinator before becoming the Associate Director at the Charlottesville site in 2002. She also serves as the Director of Social Services, with agency-wide oversight of compliance with Virginia Department of Social Services licensing standards.
She has over 40 years of experience in the child welfare field.
Linda received her master's in Public Administration and Certificate in Nonprofit Management, in 2005, from the L. Douglas Wilder School of Government and Public Affairs at Virginia Commonwealth University.
Michael Blinn
Michael is the Chief Operating Officer at People Places. He began working at People Places in 1998 where he focused primarily on Information Technology, finance, and operations. He grew up in Augusta County and graduated from Riverheads High School then Eastern Mennonite University. Michael has served as both a Director and an Officer on several nonprofit boards.  He is most passionate about bringing best-in-class technology and financial tools to the community.  In his spare time, Michael enjoys basketball, being outdoors, and eating really good food.
Brad Wentz
Brad has been working in the field of Child Welfare for the last 25 years.  He received his undergraduate degree in psychology from Mary Washington College and earned a master's degree in social work at Virginia Commonwealth University. Brad started his Child Welfare journey with the Orange County Department of Social Services as the sole Child Protective Services worker for the entire county. 
In 1997, Brad became a Child Protective Services Worker for the Charlottesville Department of Social Services. During his 14 years of service in this position, Brad was promoted to Senior Social Worker and then to the CPS Program Supervisor.  He received his license in Clinical Social Work in 2011. In recognition of his impact on the community and commitment to the field, Brad was nominated and named the John L. Snook Child Advocate of the Year for the Charlottesville area in 2009.
Brad assumed the role of Child Protective Services Supervisor in Albemarle County in 2013 where he served for 4 years. During his tenure, Brad was a member of the agency Leadership Team, helping develop the agency Strategic Plan and Business Plan. 
Brad joined People Places in 2016 where he trains staff and teaching parents on Trauma Informed Care and where he recently assumed the role of Regional Program Director for the Charlottesville office.
People Places Employees (by tenure)
(0-5 years)
(6-14 years)
(15-25 years)
(26-40 years)
Thomascine Allen
Avan Batten
Ryan Bose
Kristine Brooks
Paula Burnett
Eli Crawford
Jason Critzer
Holly Edwards
Terry Hey
Will Hagy
Kelly Howdyshell
Jan Pulliam
Charles Quigley
Julie Schroen
Michelle Shifflett
Mirela Serifovic
Barbara Station
Kindall Stevenson
Angie Veach
Brad Wentz
Kayla Wiencek
Rhonda Wiley
Cheri Wilhelm
Diane Bell
Melissa Blinn
Tina Bosserman
Emily Davis
Cheryl Dickensheets
Richard Doyle
Michele Freeman
Mary Glover
Kim Higgins
Douglas Johnson
Megan Kincheloe
Ray Leavitt
Jeannie Lockinger
Donna Schindler
Jean Slaughter
Nancy Strang
Michelle Truslow
Frankie Waalewyn
Amy Wilt
Jerelyn Anderson
Missy Berry
Michael Blinn
Linda Currence
Kevin Madden
Joyce Stratton
Ann Barnett
Carol Bright
Penny Combs
Sally Koch
Bill Heizer
People Places Board Members
Kristina Blakely
Kristina joined the People Places board in 2017 after years of experience serving children and families through working as a Family Consultant and a teaching parent. Kristina first learned about People Places during her undergraduate studies at Eastern Mennonite University where she earned her degree in social work. During that time, Kristina felt a calling to one day be a part of the People Places family. Her calling was actualized when she was hired as a Family Consultant in the Staunton/Harrisonburg offices from 2002-2007. Kristina and her husband, James became teaching parents in 2009 and served a number of children over the next 7 years. Kristina has also worked at the Harrisonburg-Rockingham Community Services Board where she served children, families and adults for a total of 13 years. Kristina recently graduated with a master's in counseling from Eastern Mennonite University and is currently working as a Clinician with Intercept Youth Services.
Charlie Rogers
Charlie joined the Board of Directors in 2017 after years of working with the agency as both a Teaching Parent and adoptive parent. As the founder and CEO of Innovative Software Solutions (ISS), Charlie has extensive experience running all facets of his business. Charlie holds a B.S. in computer science from Old Dominion University. When not working, Charlie pastors, reads, golfs, and gives back to the community that helped him, his wife, and eight children.