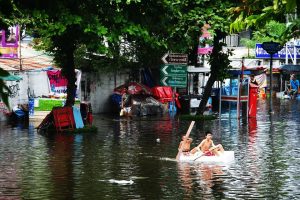 As we welcome the many joys of October including cooler weather, trips to the pumpkin patch, and apple cider- it is also important to acknowledge that the last several months of natural and unnatural disasters have been unprecedented, heartbreaking and very difficult from a national and worldwide perspective.
People Places recognizes that these incidents affect us all, no matter how removed we are from the events. Children, especially, are at risk for increased fears and anxiety when hearing second hand of natural disasters and violent tragedies. They may develop anxieties towards storms, going to school or being separated from parents and caregivers. These are developmental responses to fear and trying to make sense of the world around them.
Children, specifically those with previous trauma experiences, need your calm, reassuring, and consistent guidance. You will also be expected to act as a meter of what is appropriate for them to know and what is not. Below are several references/articles to assist families in helping children feel safe while managing strong emotions. You will also find an updated listed of helpful websites.
Consider this: "My mother would say to me, 'Look for the helpers. You will always find people who are helping.' To this day, especially in times of disaster, I remember my mother's words, and I am always comforted by realizing that there are still so many helpers — so many caring people in this world." Fred Rogers
Tips for Parents on Media Coverage of Disasters
How to Talk to Kids about Mass Shootings and Attacks
Restoring a Sense of Safety in an Aftermath of a Mass Shooting
Helpful Websites for Emergency Information:
Virginia Department of Social Services
Virginia Department of Emergency Management
Build an Emergency Kit
Federal Emergency Management Agency (FEMA)
For Children: Emergency Preparedness for Children