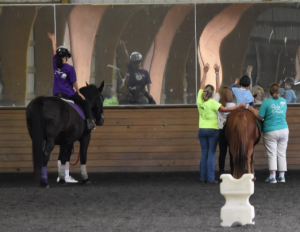 Written by: Kindall Stevenson, Marketing, Advertising & Recruitment Specialist
People Places and Ride with Pride have partnered for many years to provide therapeutic experiences for foster children. Kelsey Lasher, the Program Director at Cedar Creek Stables, is passionate about the work she does.
"I love that Ride with Pride feels like a home away from home. The horses always welcome new and returning visitors… They can brighten anyone's day in an instant. I also love what Ride with Pride can do for its riders. Nothing makes me happier then helping riders achieve new goals and build on life skills," she said.
Founded in 1990, Ride with Pride has expanded to include programs like: Therapeutic Horsemanship, Image Enhancement, Equine Facilitated Psychotherapy, Summer Day Camp, Special Olympics Equestrian Programs and more.
Kelsey relates this to the foster children that have benefitted from this partnership; "Horses are unique partners that are sensitive to the needs of the students. I have seen the horses in this program improve our students skills of patience, self-confidence, empathy, compassion, and trust."
She went on to add, "Often those who have experienced a trauma will try to hide it, but horses will pick up on these emotions and aid it starting up conversations and adding comfort to someone in need. The riding movement of horses is rhythmic and helps with relaxing and loosening tense muscles from stress. Once the body begins to relaxed the mind can also begin to relax."
 In the future, Kelsey hopes to see Ride with Pride continue to support the community.
 "People Places is a wonderful organization for foster children and Ride with Pride is very grateful to be able to supply them with a unique therapy for the many children they support," she said.
(Photos provided by Ride with Pride and do not feature any foster children.)