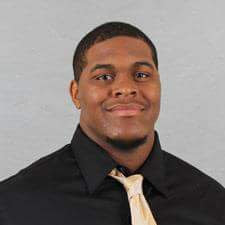 Written by: Kindall Stevenson, Marketing, Advertising & Recruitment Specialist
Shawn Winfrey is a former foster child who entered care in 1994 and again in 2000 due to neglect. For him, kinship care was not considered or offered.
"My first stint in care was not pleasant or safe; my brothers and I were abused by our foster parents at that time. They made us bathe outside in one bucket with the same water and whopped us with belts and extension cords daily. We were removed from that home within a years time and returned home and I am unsure of what came of those people," he shared.
Once he was placed by People Places, things changed for Shawn. He shared, "My second placement was a blessing; I had a great foster mother who was employed by People Places and she worked hard to help me manage my anger and become academically sound. She pushed me to participate in sports and even continue playing in the orchestra."
Although reunification with their birth families is the ultimate goal for foster children, this is not always the outcome. In Shawn's case, he never returned home.
"My parents tried hard, but were unsuccessful in meeting the court's requirements to regain custody of me and my brother. With this understanding, I applied myself to school and learning as much as possible for a future unknown to myself." Shawn was a tri-sport athlete and dual enrollment graduate. He went on to completed college in 5 years earning a degree in psychology with a minor in social work. He is currently applying his degree as a IDD Support Coordinator, working to help disabled individuals and is interested in starting his own business.
"I am very appreciative of my journey and I am dedicated to helping others who are walking the same path as I did."
When it comes to foster care, Shawn says, "I believe there is a great need for foster parents who are dedicated and committed to fighting the battles that foster kids fight. Foster care can be a light to some and a calling for others."
He had a few words to say about his experience and advice to give foster parents; "People Places makes a higher effort to seek out the right people and assist them in making the right choices when it comes to helping the foster care population… Most foster kids don't go to college because they are unaware of the funding and resource out there that are available; please take time to research those opportunities and enlighten your children for they may have access to funds that they don't even know!"