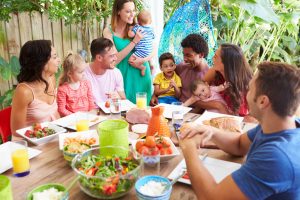 Written by: Melissa Blinn, MA, Teaching Parent Coordinator
Many children in foster care fear never seeing their family members again and long to maintain those connections. One way to diminish that fear is through regular visits with family members. In fact, visitation is required for children in foster care unless there is a court order against it. 
As a foster parent, you can do much to contribute to the success of family visits. Here's what potential and current foster parents should know about family visitation and our tips to prepare for a family visitation. 
Why Family Visitation is Important
Supervised visits ensure the safety of everyone involved. Safety is always a priority for all involved. That is one of the reasons the majority of visits between family members and children in foster care are supervised by professionals. In a safe and controlled environment, family visits can provide an opportunity for reassurance, connection, mutual enjoyment, and repairing and building of relationships. They also provide an opportunity for parents or other family members to demonstrate learned parenting skills and the ability to safely care for and interact with children.
Family visits help children move forward. Visitation with birth family is one of the primary ways children will heal, attach and move quickly through the foster care system. Without a doubt, visitation between children and their family members (including birth parents, siblings and extended family members) can be rewarding and challenging for both the child and the other people involved. 
Preparing Children for Family Visitation as a Foster Parent
Foster parents are key to preparing the child for the family visit and helping support and process with the child after the visit. Foster parents can assist children with family visitation in the following ways:
Providing transportation for the child to and from visits.

Contributing in this way can make it much easier for family members to see the child regularly, which offers the child a greater sense of stability in their lives.

Reporting any changes in behaviors/emotions before and after visits to professionals.

Qualified professionals can offer useful suggestions to make family visits go smoother when challenges arise.

Interacting positively and respectfully with the child's family members.

Positive interactions will help quell any doubts and fears both the child and their birth family feel about foster care. It will reassure all parties involved that

reunification

is still a goal for the family.



Providing opportunities for children to maintain connections and honor their family of origin.

In the same vein, honoring the child's birth family is key to helping them heal and move forward in a positive and healthy fashion. Allow the child to hang pictures of their birth family, remember birth family members on holidays and special occasions, and write letters and make calls to birth family members in between visits. 
Becoming a foster parent is not just about caring for and protecting children during their stay in foster care. It is also about understanding who the child is, supporting and maintaining previous relationships and honoring and respecting their birth family.
Interested in becoming a foster parent? Attend an upcoming orientation session or complete this form for more information.  
Sources:
Views on Foster Care and Adoption in NC: Fostering Perspectives, (November 2010 Vol 15, No 1)
Partners for Our Children: Family Visitation in Child Welfare (April 2011) Retrieved from: partnersforourchildren.org