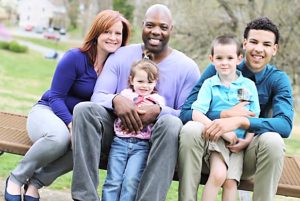 Written by: Kindall Stevenson, Marketing, Advertising & Recruitment Specialist
People Places' foster parents, Megan and Rock Watson recently traveled to Atlanta, Georgia for the 32nd Annual FFTA Conference. The Family Focused Treatment Association hosts this event, each year, and organizes several talks circling on the latest news and topics in foster care and trauma-informed care. This is a great opportunity for foster parents and providers to discuss their experiences and hopes.
The Watsons were present at this conference because People Places nominated them for a scholarship and chance to attend.. and they were selected! When asked how they felt about our agency submitting their names, the couple replied, "We felt honored to be nominated for this scholarship and surprised, because we knew nothing of the organization (FFTA). When you are parenting, learning and attaching, it's not always on our radar to think about what happens at the state or federal level regarding the policies, decisions and implementation of best practices for children in foster care."
"We are so grateful to People Places for making this happen, for making all of the arrangements and for making sure our needs were met. All we had to worry about was being on time for our flights and figuring out what sessions to attend," they added.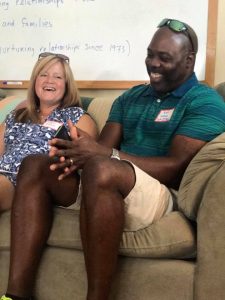 The Watsons described the event and every aspect of the talks/workshops. "The conference was a bit overwhelming, there was so much offered in terms of workshops, hundreds of people from foster parents to agency directors and policy makers… We were able to come home with a plan and a strategy for implementing some changes at home that hopefully will promote healing, connection, and felt safety with our son."
We asked what the two thought was most helpful when talking with FFTA representatives and other parents; "It was so helpful just to go and to see how agencies from different states are implementing levels of care (therapeutic foster care) and to learn the ways in which they structure and provide care."
They cited the most inspirational piece being the opening speaker who was formerly in care and went on to continue the cycle of generational addiction and poverty, leading to how her own children entering care and, eventually, being adopted. She was able to turn her life around and break the cycle.
The Watsons said, "Her story was heart wrenching, a young life rifled with abuse, of all kinds, and severe neglect and a system that ignored her. To see her up on the stage, a successful business woman, raising her youngest child shows that there is hope."
At the conference, FFTA representatives recognized all the foster parents who were awarded scholarships and held a dinner and campfire discussion to honor their hard work. And overall, the Watsons felt that the trip was worthwhile.
"We would like to attend another conference in the near future, just to keep abreast of best practices, what's going on around the U.S. and to give it another shot- now that we know what to expect," they said.
Outside of talks and workshops, the couple was able to take a few moments and explore Atlanta together. "Thankfully, the aquarium was open until 9 p.m. and we were able to walk through almost by ourselves. On our way to dinner one night, we also got to see a brass band battle; the musicians were very talented!"
Now that they have returned home, the family is off to the beach for a few weeks of camping. They are all very excited and will be joined by another family with foster children; "It should be a wonderful time of exploration and adventure."